Sometimes I could just kick myself for not carrying my camera, and yesterday noon and evening was one such time. After a long but happy day of roaming to inquire about doctorate of women studies in IGNOU – we approached the research unit which is 2 miles inside the campus , a mini bus is available for the needy persons go inside.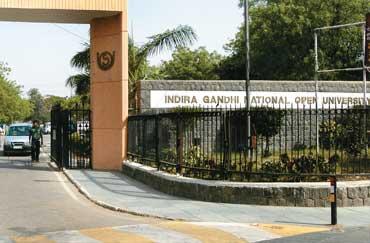 The campus was so lonely, lash green monsoon shower bathed trees as the Sawan grew upon the campus, dappling it with fresh vibrant shoots, clearing the sky overhead, loosening the winds to rush across them; as the beautiful season grew ripe on the campus,
starting at 9 am and ending at 5, with a break in the middle for lunch with my daughter at open canteen, of GOVT . We went to a friend's (of my daughter) for dinner, and discovered she was making a Haryanvi feast for us. When we arrived , about half an hour ahead of the co-resident , she made us a cup of eucalyptus tea which we drank in the open balcony while she cooked.
The menu that unfolded over the next few hours included fried lady fingers (okra) stuffed with spices; golden-orange dal topped with fresh green cilantro; a spicy green bean dish; kheer cooked w/bananas; ground masala with peas and chilis; fresh chapatis that were cooked on a cast-iron griddle and puffed on a rack placed over a hot burner; and raspberry cardamom cake with whipped cream. I love to cook, but I really love it when friends cook for me -- it's such a beautiful gift, especially when accompanied by the warmth of good conversation and genuine friendship. I feel really lucky.
Lunch was very nice too: a long conversation about spiritual matters and writing with a close friend, and then an hour of relaxing, crowd-watching, and sketching the scene outside the window, which looks the buildings of Campus, before going back to our residence.
xoxo